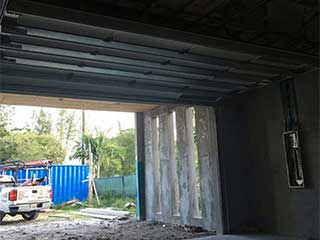 As convenient and advanced as automatic garage door systems get with each passing year, there's still a lot that can go wrong with them. That's where we come in. Whether it's a matter of fixing some part of your opener or replacing a broken spring, our technicians have the experience and the skills to handle the problem quickly and – most importantly – safely.
Keep The Motor Running
Just like any electrical motor, your garage door opener isn't immune to malfunctions. While maintenance does go a long way in terms of keeping this device operational, some problems can be become unavoidable. If a motor gear broke or the chain drive needs to be adjusted, our experts will be able to help you out. Those aren't the only two scenarios in which we can help, of course. You can count on us to handle any opener related problem.
Dealing With The Stress
Springs are probably the most important parts of your door, seeing as how they're the devices that actually support and counterbalance its weight. As a result, though, they go through a lot of wear and tear, and it's only a matter of time before they'll snap and need to be replaced. Spring replacement is a complex task, and one that's quite dangerous too, so you better let our technicians handle it. We'll make sure your door returns to its normal operation without jeopardizing anyone's well-being.
From The Mechanical to The Electrical
Whether you need to have your safety sensors realigned, your tracks straightened or even to have a couple of panels replaced, you can rely on our team. At Garage Door Repair Marietta, we are fully committed to offering same day services, and to see to it that we meet and exceed every customer's expectations. If you need any type of help with your door, give us a call today.
We also offer:

Roll Up Garage Door Services

Damaged Parts Replacement

Broken Emergency Release

Garage Door Out of Track