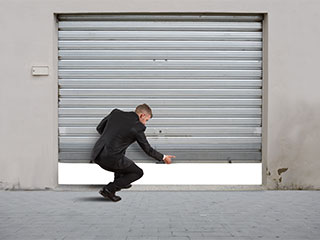 Your house is a private space where you should feel completely free to do as you like, wear what you want, and say what you please. Homes in Georgia are full of appliances and devices, which provide convenience and help day to day life run smoothly.
When this convenience and safety gets knocked out of whack, this can push everything into chaos. Your garage door system is an incredibly complex electro-mechanical system and can cause serious harm and damage if safety precautions aren't taken seriously. Read on for suggestions when it comes to limiting the hazard risk caused by your overhead door.
Don't Attempt Serious Repairs

Don't attempt to carry out repair work if you don't know what you are doing. Many components of your systems, like the springs and opener, are complicated devices and can be dangerous to handle. It's always best to call a professional when something goes wrong.

Watch Kids When They're Near The Garage

You should never leave your children unattended in your garage, especially close to the overhead door mechanism. You wouldn't want a garage door cable suddenly snapping and causing injury.

Keep Remote Controls Away From Children

Remote controls are great accessories, but they can also become your worse enemy. You should refrain from leaving them in plain sight for two reasons. Firstly, you don't want to attract the attention of potential intruders; secondly, you don't want your remote to get in the hands of children who may be at risk of treating it like a toy.

Don't Leave Damage For Too Long

If any part of your door mechanism suffers damage, you should get it fixed it right away. Especially if it's a problem like a broken spring that prevents you from closing your door properly. You can't leave the door unattended while open or slightly ajar without compromising the safety of your home.

Unplug The Opener When Cleaning

If you're carrying out maintenance or cleaning on your garage door, we recommend unplugging the opener first to protect against any accidents. You don't want the door to accidentally close on you in the middle of lubricating the springs!
These are our suggestions but the number one way to keep your system safe in our opinion is to ensure it's kept in great condition - we can help with this, just give us a call at Garage Door Repair Marrietta!