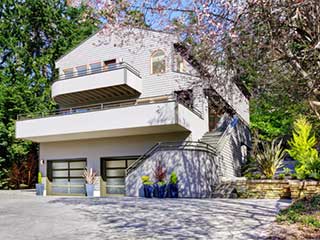 It is a well-known fact that the right garage door has the potential to increase the value of your property considerably. An upgrade of your garage door usually runs in at a close second place to a front door upgrade when it comes to improving curb appeal. Before you make the final decision regarding your new door, here are a few things to consider.
Check The Measurements
Whether you have the space for a single or double garage door installation, it is important to take proper measurements. The headroom, backroom, and side room measurements must be taken accurately to ensure that the door fits properly. If the wrong dimensions are taken, this could lead to wall and ceiling damage which could obviously be costly to repair.
Consider the Material You Want to Use
When selecting a material for your door, there are several options to choose from. You can choose between wood, steel, or fiberglass. Wood is more costly than steel, but it may give you the aesthetic look you want Fiberglass garage doors are light-weight and can offer the look of wood minus the yearly maintenance. These can be good for oceanic locations such as beachfront homes because they resist the salty air.
Consider Your Insulation Needs
You should decide whether you're in need of insulation for your garage door or not. This is an important means of energy efficiency for the home. Without it, you may find a significant amount of energy escaping from your home, potentially driving up bills. If the wall or gateway between your garage and home is already fairly insulated, you may decide this isn't necessary.
Our experts are on hand to help you choose the right door. We can also look after any new installation you're in need of from start to finish. Simply contact our team today at Garage Door Repair Marrietta in Georgia for further advice or to reserve an appointment. We'll be glad to give you our recommendations!